Monday, November 4th, 2013
This handy tip describes how and why bleed should be used when designing artwork for booklets of a CD duplication order.
The diagram below is of the top right hand corner of a CD booklet and shows the trim line in black and the edge of the bleed area in red.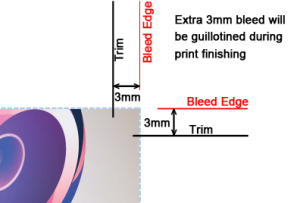 When preparing artwork for CD booklet print an extra 3mm of artwork should extend past where the booklet will be trimmed. This extra 3mm is known as bleed and is required for all trim edges of CD booklets and inlays.
It is essential to allow the extra 3mm bleed of artwork so that when the booklets are guillotined there will be no white streak where the paper is cut. All guillotines have a "tolerance" this means they may not always cut exactly on the trim line. It is usual for a tolerance of up to 1mm in any direction which is exactly why the extra bleed is required. Most printers will reject artwork if it does not contain a bleed area of 3mm.